In this section, the CGSW highlights our the previous years' WASH seminars and events. The CGSW Seminar Series is designed to showcase the research and programmatic work of our extensive network of faculty and partners in WASH.  CGSW also acknowledges World Water Day, Global Handwashing Day and World Toilet Day with student-initiated learning activities and other special presentations.  The videos below are a collection of WASH presentations and events that have occurred at Rollins School of Public Health in the last academic year.
Click on the title to link to the video presentation. 
CGSW Seminar Series 2015-2016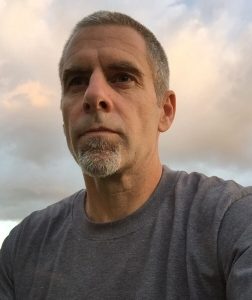 Sustaining Water Services: Challenges and Lessons from the Field
Paul Hicks, Water Resources Coordinator, Catholic Relief Services in Latin America
Paul has nearly 20 years of experience in water resources management and agricultural development. Paul started his career with the Peace Corps in Honduras, where he designed and built water systems with the national water agency.  He worked for several years in California and the Pacific Northwest in natural resources, then studied at UC Davis where hear earned a Master's degree in International Agricultural Development (1999). He has spent the last sixteen years with CRS working and living in Albania, Mindanao (Philippines), Afghanistan, and Central America. Paul has been in El Salvador since 2009, leading CRS' programs related to water supply, watershed management, and water-smart agriculture. Paul's expertise is focused on two themes: (1) protecting water sources through sustainable land management and (2) promoting local management of water systems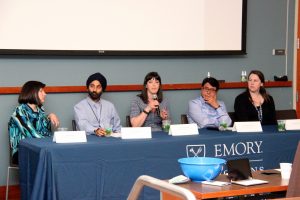 CGSW World Water Day 2016 – Flint Water: What Happens When Regulations Fail?
World Water Day is time for us to reflect and raise awareness about the global challenges of access to safe water for developing nations.  As a community of scholars, we take this opportunity to educate our local Atlanta and Emory community and create dialogue around emerging and important issues in safe water that impact our world. This past year, we turned our attention to the water crises occurring in our own backyard – in Flint Michigan and other communities across America.
Using a series of short talks and a panel discussion, we explored the issues of water contamination in American drinking water supply through the lens of legal experts, public health scientists and medical practitioners.  Our primary objective was to educate our audience and have an open dialogue regarding the intersection of water science, public health and US water policy.  We also wanted to discuss the implications of various water contamination crises on our continued access to safe water in America – should we be worried?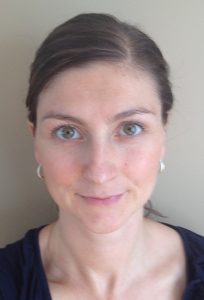 Estimating the Number of Cases of Acute Gastrointestinal Illness Attributable to Drinking Water in Canada (presentation unavailable)
Heather A. Murphy, Ph.D., Eng, Assistant Professor 
College of Public Health, Division of Environmental Health, Temple University
Dr. Murphy has over twelve years of experience in water/ wastewater treatment, water quality, drinking water distribution, risk assessment and environmental health in both North America and abroad. Dr. Murphy obtained her PhD in Environmental Engineering from the University of Guelph, Canada, where she focused on appropriate household water treatment technologies in rural Cambodia. Following her PhD, she worked for the United Nations International Emergency Children's Fund (UNICEF) as a Water, Sanitation and Hygiene Specialist in Mali and Madagascar.  While in Mali, she coordinated a $25 million dollar Water, Sanitation and Hygiene (WASH) in Schools program, covering 1000 schools, the largest program of its kind in the world. She recently completed a research fellowship with the Public Health Agency of Canada where she focused on quantifying the burden of waterborne disease on the Canadian population. Prior to joining Temple in July of 2015, she was a research fellow at the University of Guelph where she conducted research on the challenges of water provision in Canadian First Nations communities. Dr. Murphy's research interests involve understanding and addressing water and health challenges in both developed and developing countries.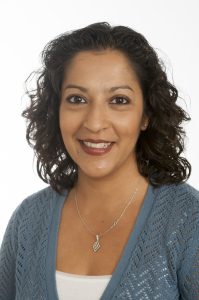 Extreme Precipitation and ER Visits for Gastrointestinal Illness in Areas with & without Combined Sewer Systems: An Analysis of Massachusetts Data, 2003-2007
Jyotsna S. Jagai, MS, MPH, PhD, Research Assistant Professor, Environmental and Occupational Health Sciences University of Illinois at Chicago
Jyotsna S. Jagai, MS, MPH, PhD is an environmental epidemiologist whose work focuses primarily on health impacts of water quality and environmental stressors of water quality including climate change and land use patterns. She is also interested in the development of comprehensive indicators to characterize the cumulative environmental impact on human health. Her work has focused on the adaptation of various methods for use in environmental epidemiology. Her methodological work includes time series analysis, meta-analysis methods, and development of environmental exposure measures. In this presentation, she will discuss her recent work on the impact of heavy rainfall in areas with and without combined sewer overflows.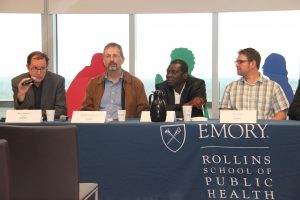 CGSW World Toilet Day, 2015 Lessons Learned in Sanitation
A lecture and panel discussion with visiting sanitation experts from SWA, WHO, Bill & Melinda Gates Foundation, USAID and World Bank moderated by Susan Davis from Improve International.
World Toilet Day is a day to take action for global sanitation! It is a day to raise awareness about all the people who do not have access to a toilet – despite the human right to water and sanitation.Of the world's seven billion people, 2.4 billion people still do not have improved sanitation. One billion people still defecate in the open. Poor sanitation increases the risk of disease and malnutrition, especially for women and children.
For World Toilet Day 2015, Emory students participated in "Cop-A-Squat" for World Toilet Day awareness and then traced squatting images to place all around campus to raise awareness about issues around the practice of open defecation and the need for improved global sanitation.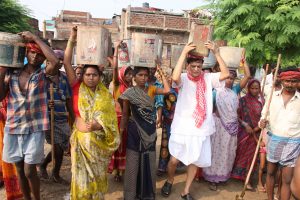 Innovation is the Key to Solving the Water and Sanitation Crisis in India
Dr. Bindeshwar Pathak, Founder, Sulabh International Social Service
Dr. Bindeshwar Pathak is the inventor of the two-pit compost flush technology that has helped provide low cost environmental toilets to millions of people in India. In 1970, he founded Sulabh International, one of India's largest NGO working to promote human rights, environmental sanitation and waste management. The organization works in 25 Indian states, 1599 towns and has 50,000 volunteers. In 1974, he introduced the concept of building public toilets on "pay and use" basis, which are visible in most public places in India.
In 2014, he initiated a safe drinking water project in four districts in the West Bengal state in East India, where villagers are being provided clean drinking water at 50p per liter. A significant number of the villagers in these districts suffers from arsenic related diseases due to contamination of ground water. These treatment plants (installed with support from Sulabh) takes water from traditional ponds and rivers, which is arsenic free. The objective is to create a decentralized, people-friendly approach aimed at empowering communities by building capacity in them so that villagers, with training, can run the plant effectively.
Dr Pathak is a Padma Bhushan award recipient by the Indian government. He was inducted in the United Nations Environment Programme Global 500 Roll of Honour in 2003. He was awarded the Stockholm Water Prize in 2009 and received the Legend of Planet Award from the French Senate in 2013. His two-pit compost flush technology has been declared as a "Global Best Practice" by the United Nations HABITAT and United Nation's Centre for Human Settlements.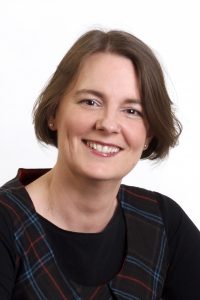 Sustainable Groundwater Development in Africa: More than Engineering
Kerstin Danert, PhD, Rural Water Supply Network (RWSN)
Kerstin Danert is a rural water supply specialist focusing on developing in-country capacity with respect to operation and maintenance, cost-effective borehole drilling, technology adoption and sector performance monitoring. Her work has involved integrating institutional, socio-economic, cultural, political and technical aspects of rural water supply service provision in developing countries. She has provided face to face advisory and capacity development services to national and local governments, NGOs and the private sector in over 10 countries in sub-Saharan Africa as well as remote support for many more. She lived and worked in Uganda for ten years up to 2008, when she moved to Switzerland to join SKAT (Swiss Centre for Appropriate Technology). Since 2009, she has led the secretariat of the Rural Water Supply Network (RWSN).